This year I had my first Easter party at home. Two years ago, we were invited to a family meal and was fun to share and receive chocolate. I made a video in Spanish about it also commenting on the differences I found between Mexican and German Easter celebrations.
Your basic Easter Decoration
Collect egg shells and paint them
Get a branch to hang some of the eggs
Make a nest and put painted eggs there
Bunnies all around (could be chocolate ones)
I started preparing eggs trying to destroy them as little as possible. Some people have a needle thingie to stitch them and then blow the content out. I made holes in them, and it was not so bad, they are pretty complete I'd say.
On my morning walks with Baby Pauliphysics I found some branches that could be used for the decoration and others to make a nest. Why do bunny eggs would be in a nest? No idea, but it looks cute and it's how eggshells are displayed.
Bunnies can be bought in several sizes and types of materials as well as chocolate. Also, you can add the coloured boiled eggs as part of the deco.
Meal in some German homes
On that video, I expressed that the meal reminded me of Christmas, just that it is served a bit earlier. Well, Mr Pauliphysics prepared an amazing rabbit in a sauce with champignons, paprika, bacon and other delicious things. The two side dishes are red cabbage and potatoes.
I had a cup of wine and then as dessert, we had this milka eggs that are filled with a white mouse. Chocolate in this country is quite good. Maybe the Belgians would say there is no comparison with their amazing chocolate, and I know it is wonderful quality and flavour, but German chocolate is not far behind. I love it!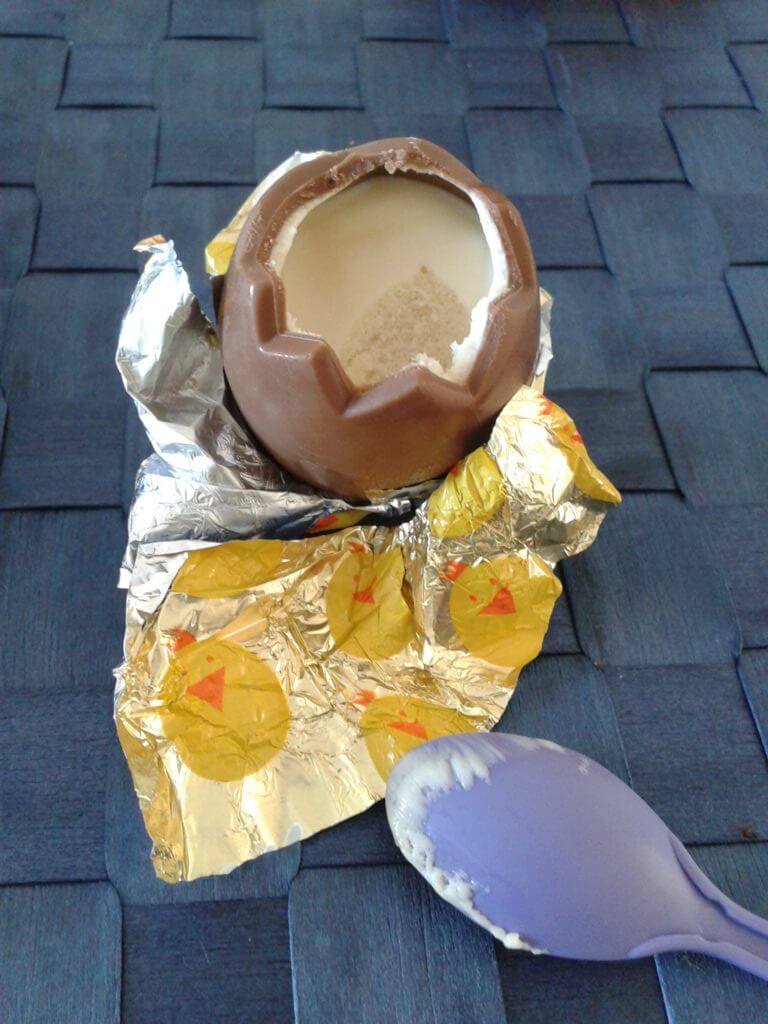 Happy Easter Everybody!
We had wonderful family time and I hope you also have enjoyed your long weekend if you had one. In Mexico, the bank holiday is only Friday, and sometimes Saturday, but here in Germany, everyone had Friday and Monday free. The weather was nice and we could also take a stroll around Wuhlheide.
What can you share about your Easter Holiday?